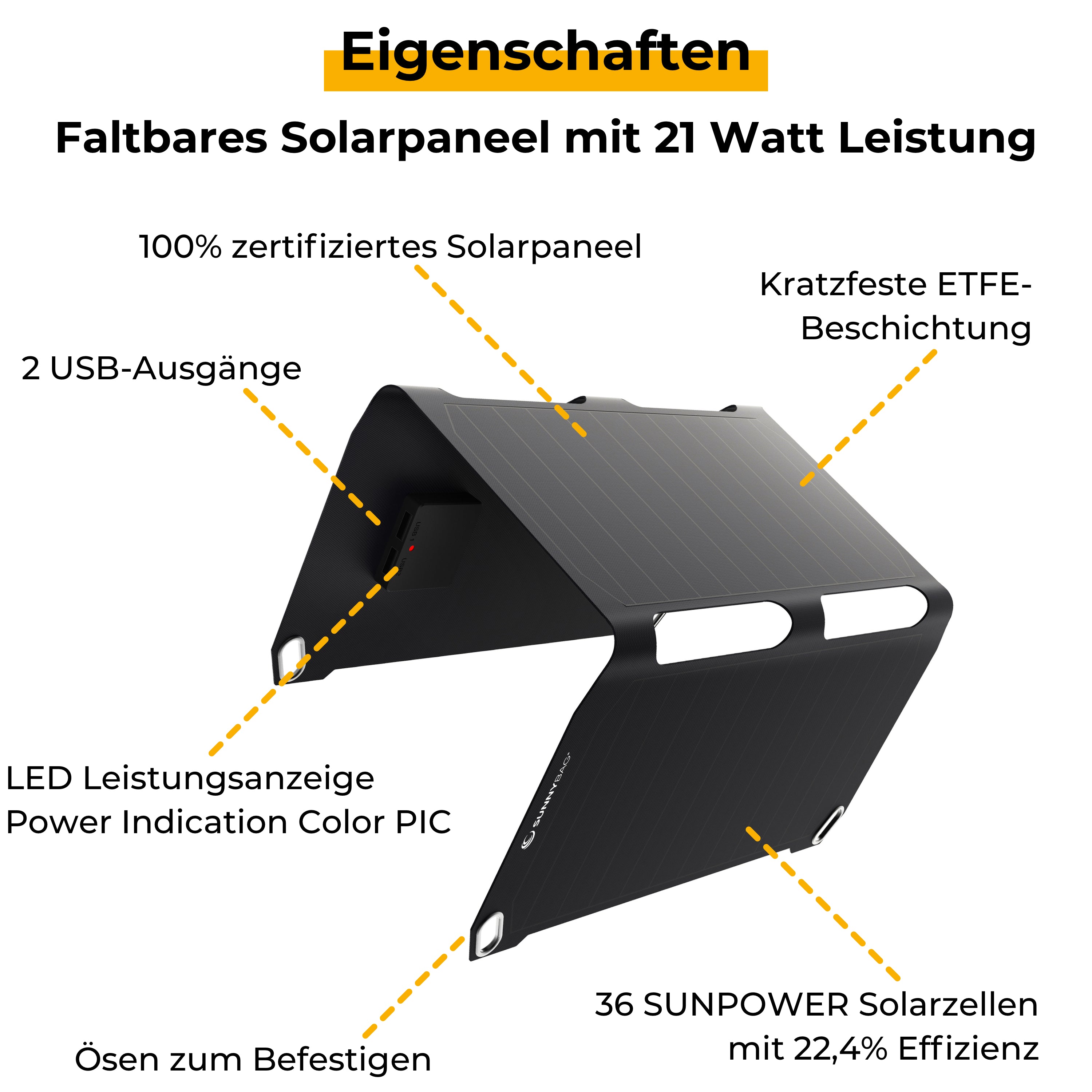 Sunnybag SUNBOOSTER Remis à neuf
Only 5 units left
Versandfertig in 2-3 Tagen
30 Tage Rückgaberecht
Kostenlose Lieferung in DE/AT
Refurbed means that the packaging has been opened and the product has been viewed/tried out. The product may show signs of use, but has been inspected and is working properly.
The Sunnybag SUNBOOSTER is a highly efficient portable solar system with a total output of 21 Watts. This solar charging device is perfect for everyone who loves independence and wants to be supplied with electricity all around the world. No matter if you go hiking, climbing, touring, cycling, golfing, camping or if you attend a festival - this solar charger is a reliable companion and will supply all your devices with power.
21 Watts of power - 3 solar cells of 7 Watts each
Lightweight and compact - only 660 g (1.4 lb)
Product dimensions: 49x31x0,2 cm (19.3x12.2x0.08 inch)
2 USB outputs (each 1.5 Ampere at 5 Volts)
100% certified solar cells at 22.4% efficiency
The ETFE-coated surface is waterproof, scratch-resistant and shock-resistant
Foldable panel - large surface for maximum power production yet easy to stash if folded
Power Indication Color - the LED color tells you how much power is being generated at the moment
Auto-Restart feature supports charging of iOS devices

Qualitätskontrolle
Im Gegensatz zu herkömmlichen Solarpaneelen haben die bei SUNNYBAG verbauten SUNPOWER Zellen einen deutlich höheren Wirkungsgrad - nämlich 22,4%. Um das zu garantieren, prüfen wir jedes einzelne Paneel vor dem Versand auf seine Leistung. Das Test-Zertifikat wird jedem SUNNYBAG beigelegt und zeigt neben der erreichten Leistung auch Tag und Uhrzeit des Tests. So kannst du sicher sein, dass dein SUNNYBAG hält, was es verspricht und deine Geräte zuverlässig mit erneuerbarer Energie versorgt werden.
Optional mit Powerbank
Unsere Powerbanks sind speziell für das Laden mit Solarenergie entwickelt worden. Sie sind der perfekte Zwischenspeicher für die saubere Sonnenenergie. Das optimierte Power-Management (OPF-Technologie) ermöglicht simultanes Auf-und Entladen ermöglicht.
Die Powerbank speichert die schwankende Solarenergie effizient ab und gibt sie gleichmäßig an dein Smartphone ab. So nutzt du dein SUNNYBAG am effizientesten.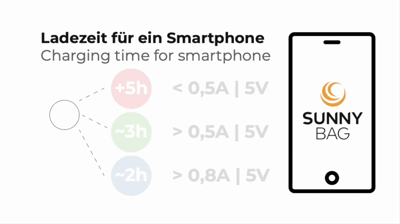 Ladestrom-Anzeige
Die Power Indication Color am USB-Ausgang zeigt dir, wie viel Strom gerade erzeugt wird und wie lange der Ladevorgang für ein Smartphone unter diesen Bedingungen dauert. Einfach Smartphone anstecken und die Ladedauer anhand der LED-Lichter ablesen.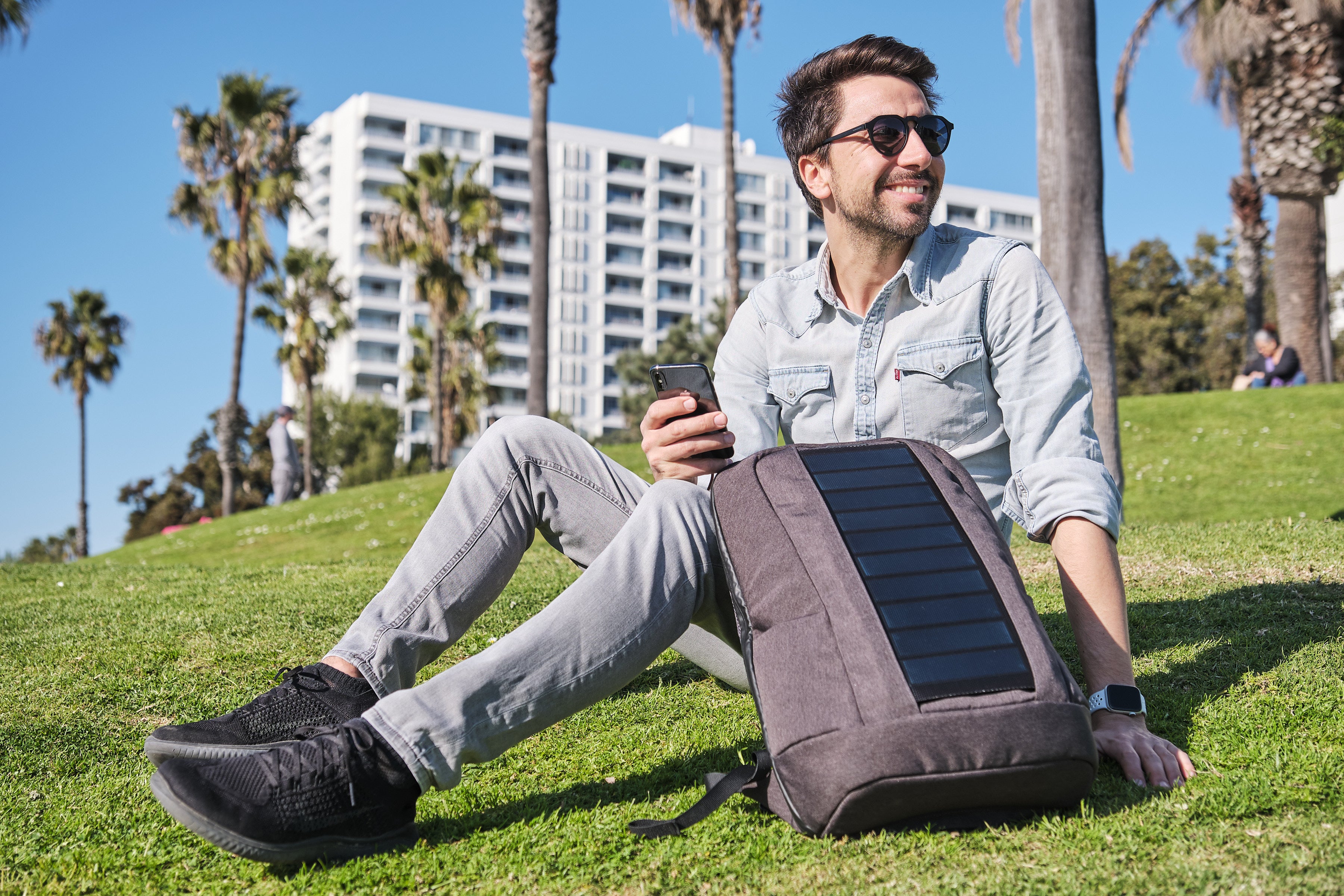 Wer steht hinter SUNNYBAG?
Wir sind ein junges und dynamisches Unternehmen aus Österreich, das tragbare Solarladegeräte entwickelt und vertreibt. Diese laden deine elektronische Geräte unterwegs umweltfreundlich mit Sonnenenergie auf. Somit inspiriert jedes SUNNYBAG zum nachhaltigen Umgang mit erneuerbarer Energie.
Nachhaltig verpackt und geliefert
Wir verpacken unsere Solarpaneele und Powerbanks plastikfrei in recyclingfähigen Kartons. Deine Pakete verschicken wir Co2-neutral mit der Österreichischen Post.
Garantieerweiterung
Je länger ein Solarpaneel verwendet wird umso mehr erneuerbare Energie erzeugt es. Daher bieten wir 5 Jahre volle Garantie, wenn du dein SUNNYBAG registrierst.