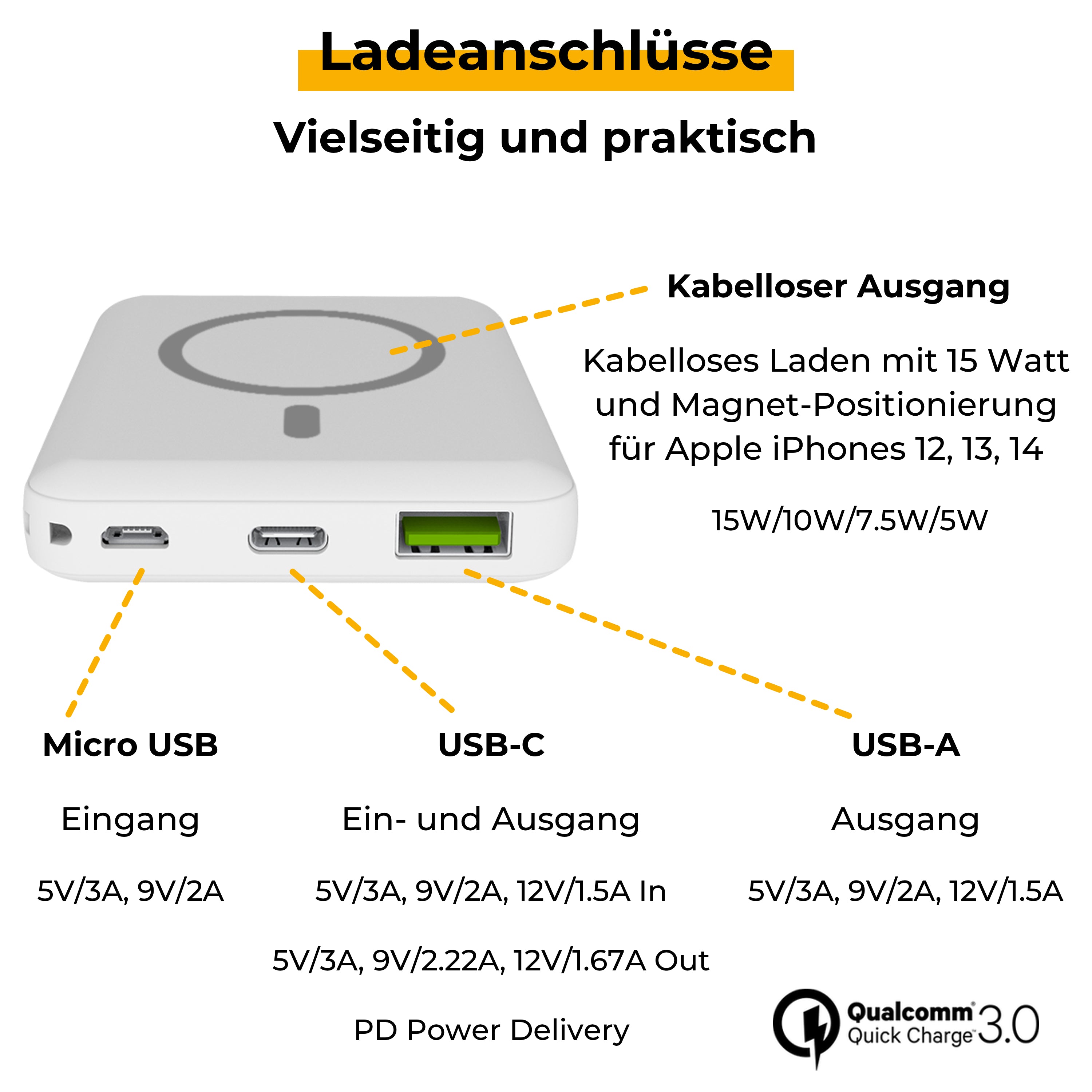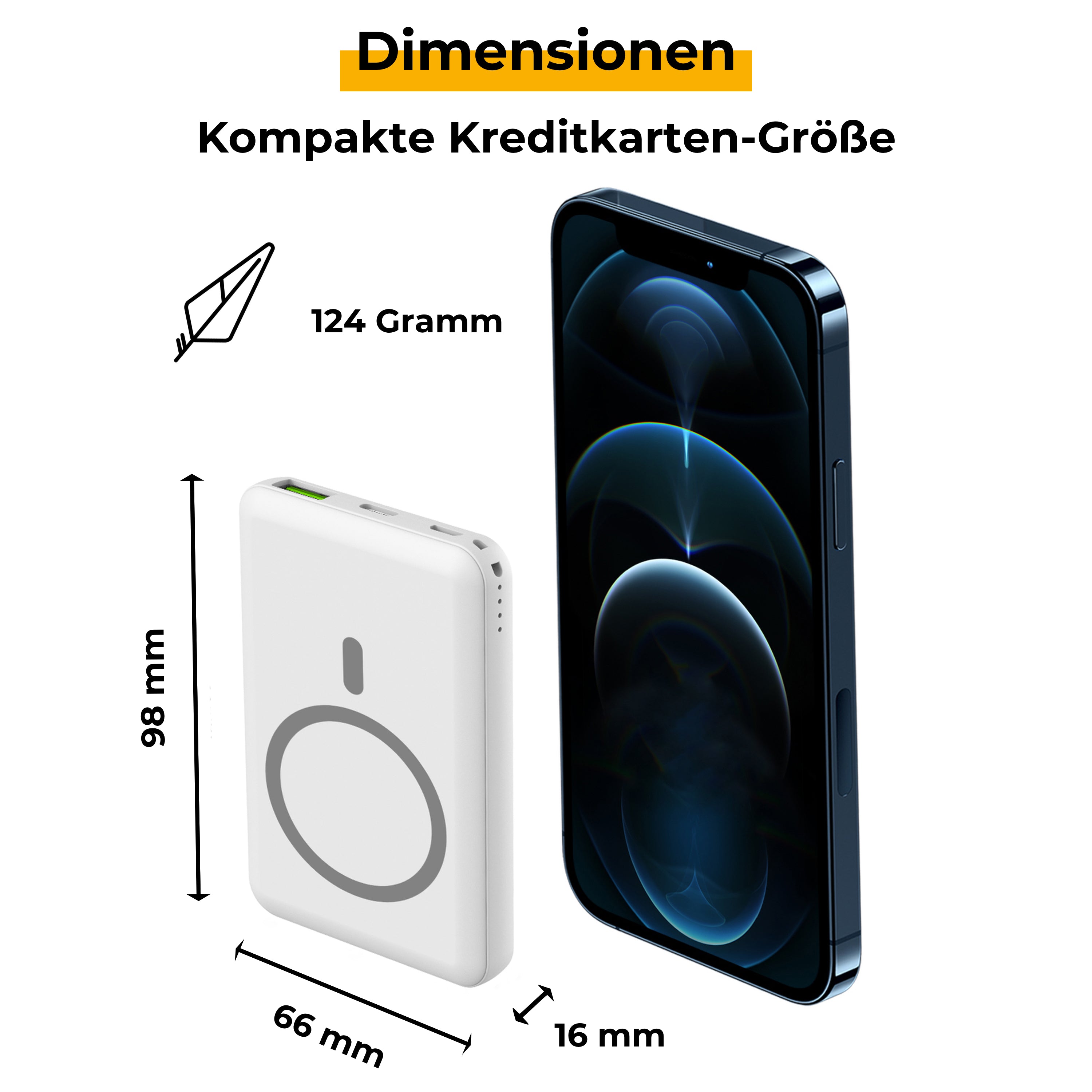 Sunnybag POWERBANK+ 5.000mAh
In stock
Versandfertig in 2-3 Tagen
30 Tage Rückgaberecht
Kostenlose Lieferung in DE/AT
The Sunnybag POWERBANK+ with 18,500mWh capacity features Quick Charge 3.0, 15W Wireless Charging and PD Power Delivery. It therefore offers numerous options for charging mobile devices such as smartphones, cell phones, smartwatches, MP3 players, tablets, etc. extremely fast.
When charging a Mag-Safe smartphone (such as Apple iPhone 12 or 13), it will be optimally positioned on the POWERBANK+ thanks to the built-in magnetic ring. This means that the cell phone cannot slip during wireless charging and the charging process is particularly efficient and safe.
18,500mWh capacity (Li-ion battery with 5,000mAh at 3.7 volts)
Product dimensions: 98x66x16 mm (3.8x2.6x0.6 inch)
Weight: 124 grams (0.27 lb)
Fast wireless charging with 15 watts
Mag-Safe compatible
1 USB-C port (input and output) with Power Delivery (PD)
1 USB output with Quick Charge 3.0
1 micro USB input
Comes with USB-C cable
High quality TPE surface
LED charging status display
Overcharge protection - switches off automatically as soon as the connected device is fully charged
The POWERBANK+ is small and lightweight and can be taken anywhere. It is particularly practical for outdoor activities such as hiking or camping, but also for business trips or on vacation.
The Sunnybag POWERBANK+ can either be charged via a SUNNYBAG solar panel or regularly via a socket or PC. You can read the current charging status from the 4 LED lights. White flashing indicates charging. If all 4 lights are lit continuously, the battery is fully charged.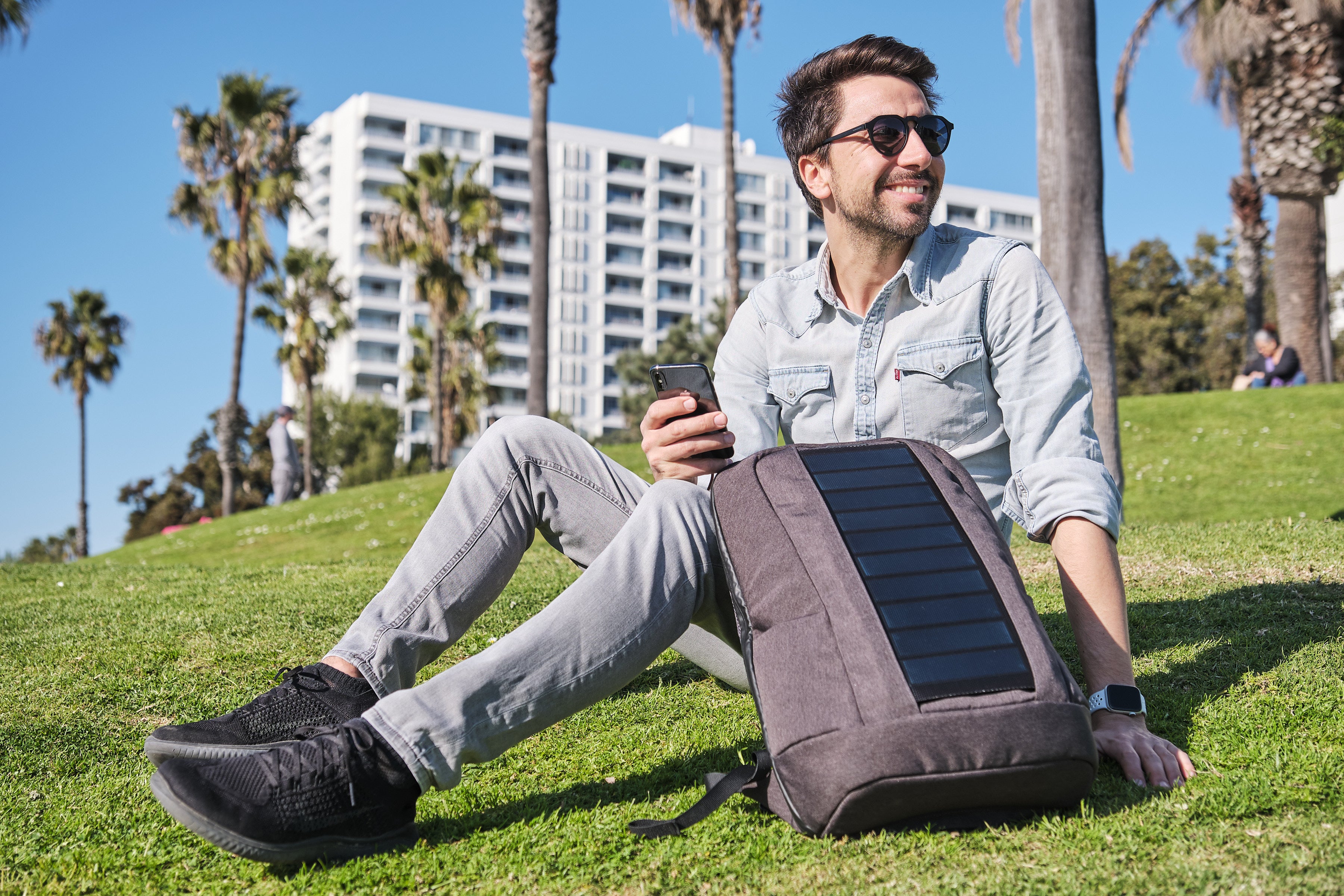 Who is SUNNYBAG?
We are a young and dynamic company from Austria that develops and distributes portable solar chargers. These charge your electronic devices on the go environmentally friendly with solar energy. Thus, each SUNNYBAG inspires to use renewable energy in everyday life.
Sustainably packed and delivered
We pack our solar panels and powerbanks plastic-free in recyclable boxes. We ship your packages Co2-neutral with the Austrian Post.
Extended warranty
The longer a solar panel is used, the more renewable energy it generates. Therefore, we offer 5 years full warranty if you register your SUNNYBAG.
Super Produkt
Lässt sich tadellos in einigen Stunden mit dem dazugehörigen Solarpanel aufladen. Würde ich es nochmals kaufen: ja
Ware wie beschrieben
Ich habe die Sunnypowerbank im Zusammenhang mit einem cycle2charge v3 gekauft. Für meine Radreise ist die Powerbank ideal. Völlig autark konnte ich mein Navi , Handy und die Powerbank während der Fahrt laden.Sprich ich habe die Powerbank zwischengeschaltet.War das Navi aufgeladen habe nur die Powerbank voll aufgeladen.Und dann abends im Zelt mit der Powerbank mein Handy aufgeladen....
Klein und fein
Ich bin sehr zufrieden habe sie über das WE getestet und bin sehr zufrieden.
Fast perfekte Ergänzung zum Solarpanel
Tolle Powerbank für das Sunnybag Solarpanel.Was fehlt ist eine Möglichkeit die Powerbank am Solarpanel zu befestigen. Ansonsten ein tolles Teil.
Je conseille
Il fonctionne très bien en guise d'onduleur recharge très rapidement un téléphone après cela dépend aussi de votre câble je recommande pour un prix très raisonnable
gutes Preis-Leistungsverhältnis
super klein und super leicht
Alles Perfekt
Alles Perfekt Vielen Dank
Perfekt mit dem Solarpanel
Die Powerbank hat mich mit dem Solarpanel (28 Watt) sehr überzeugt. Ich habe die Powerbank bei fast jedem Wetter voll bekommen, nur bei Dauerregen ist es schwierig, ich denke das versteht sich. Das einzigste was ich an der Powerbank ändern würde ist das sie einen Staub/Regenschutz bekommt, weil es meistens schwierig ist, das kein Dreck in den Ladeport geht.