Sunnybag EXPLORER+
In stock
Versandfertig in 2-3 Tagen
30 Tage Rückgaberecht
Kostenlose Lieferung in DE/AT
This versatile, functional backpack is considered the chameleon among our solar backpacks. The Sunnybag EXPLORER+ is packed with numerous practical compartments and is equipped with a solar panel that is easily removable from the backpack. That way the EXPLORER+ caters to every situation in life and you can use backpack and solar panel as one or separately - whatever fits you best.
The EXPLORER+ is perfect for travel and excursions of all kinds. But also for work or university, the Sunnybag EXPLORER+ is a practical companion with its padded laptop compartments. Via the USB output on the back of the panel you can charge your devices with solar energy on the go.
Removable 6 Watt SUNPOWER solar panel with 22.4% efficiency
Volume: 15 litres
Product dimensions: 37x29x14 cm (15x12x5.5 inch)
Weight: 1000 g (2.2 lb)
Padded compartments for tablets and laptops up to 15 inches
Made of sturdy water-repellent 600D polyester
Secure charging due to integrated USB output on the back of the panel
Removable solar panel for maximum flexibility. Backpack and solar panel can be used separately.

Qualitätskontrolle
Im Gegensatz zu herkömmlichen Solarpaneelen haben die bei SUNNYBAG verbauten SUNPOWER Zellen einen deutlich höheren Wirkungsgrad - nämlich 22,4%. Um das zu garantieren, prüfen wir jedes einzelne Paneel vor dem Versand auf seine Leistung. Das Test-Zertifikat wird jedem SUNNYBAG beigelegt und zeigt neben der erreichten Leistung auch Tag und Uhrzeit des Tests. So kannst du sicher sein, dass dein SUNNYBAG hält, was es verspricht und deine Geräte zuverlässig mit erneuerbarer Energie versorgt werden.
Optional mit Powerbank
Unsere Powerbanks sind speziell für das Laden mit Solarenergie entwickelt worden. Sie sind der perfekte Zwischenspeicher für die saubere Sonnenenergie. Das optimierte Power-Management (OPF-Technologie) ermöglicht simultanes Auf-und Entladen ermöglicht.
Die Powerbank speichert die schwankende Solarenergie effizient ab und gibt sie gleichmäßig an dein Smartphone ab. So nutzt du dein SUNNYBAG am effizientesten.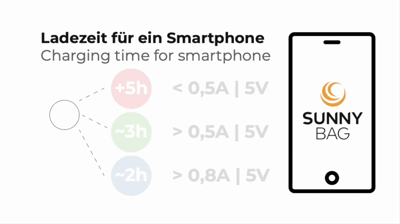 Ladestrom-Anzeige
Die Power Indication Color am USB-Ausgang zeigt dir, wie viel Strom gerade erzeugt wird und wie lange der Ladevorgang für ein Smartphone unter diesen Bedingungen dauert. Einfach Smartphone anstecken und die Ladedauer anhand der LED-Lichter ablesen.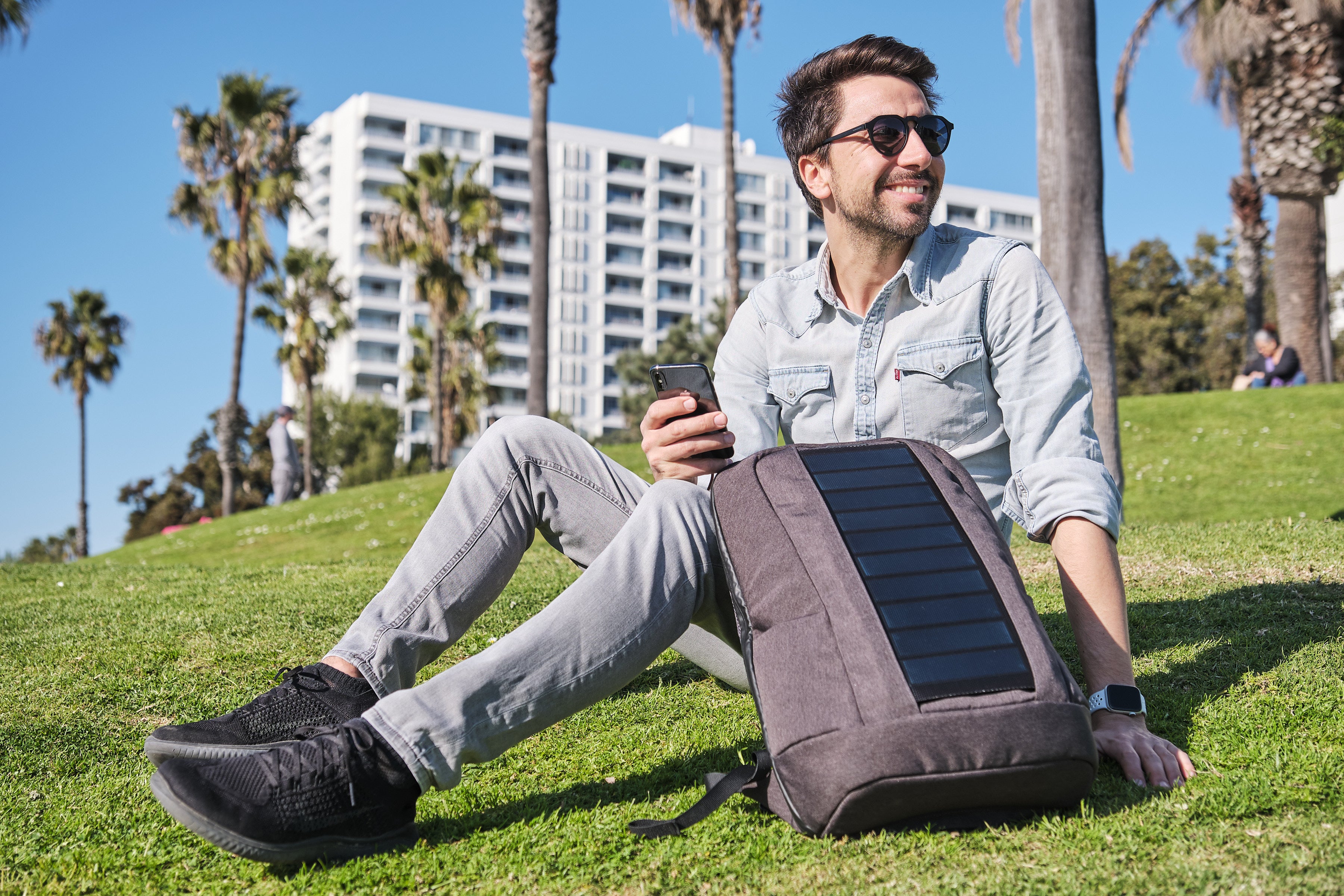 Wer steht hinter SUNNYBAG?
Wir sind ein junges und dynamisches Unternehmen aus Österreich, das tragbare Solarladegeräte entwickelt und vertreibt. Diese laden deine elektronische Geräte unterwegs umweltfreundlich mit Sonnenenergie auf. Somit inspiriert jedes SUNNYBAG zum nachhaltigen Umgang mit erneuerbarer Energie.
Nachhaltig verpackt und geliefert
Wir verpacken unsere Solarpaneele und Powerbanks plastikfrei in recyclingfähigen Kartons. Deine Pakete verschicken wir Co2-neutral mit der Österreichischen Post.
Garantieerweiterung
Je länger ein Solarpaneel verwendet wird umso mehr erneuerbare Energie erzeugt es. Daher bieten wir 5 Jahre volle Garantie, wenn du dein SUNNYBAG registrierst.