SUNNYBAG gift voucher
In stock
Zusendung sofort per Email
Would you like to give a SUNNYBAG as a gift? Then our gift voucher is just the right thing!

The SUNNYBAG gift voucher will be sent to you directly by e-mail immediately after purchase and contains all information about the purchase process for the recipient. Of course you can also use the voucher yourself for later purchases.

Give away a piece of sun!

Qualitätskontrolle
Im Gegensatz zu herkömmlichen Solarpaneelen haben die bei SUNNYBAG verbauten SUNPOWER Zellen einen deutlich höheren Wirkungsgrad - nämlich 22,4%. Um das zu garantieren, prüfen wir jedes einzelne Paneel vor dem Versand auf seine Leistung. Das Test-Zertifikat wird jedem SUNNYBAG beigelegt und zeigt neben der erreichten Leistung auch Tag und Uhrzeit des Tests. So kannst du sicher sein, dass dein SUNNYBAG hält, was es verspricht und deine Geräte zuverlässig mit erneuerbarer Energie versorgt werden.
Optional mit Powerbank
Unsere Powerbanks sind speziell für das Laden mit Solarenergie entwickelt worden. Sie sind der perfekte Zwischenspeicher für die saubere Sonnenenergie. Das optimierte Power-Management (OPF-Technologie) ermöglicht simultanes Auf-und Entladen ermöglicht.
Die Powerbank speichert die schwankende Solarenergie effizient ab und gibt sie gleichmäßig an dein Smartphone ab. So nutzt du dein SUNNYBAG am effizientesten.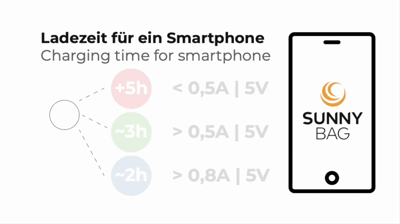 Ladestrom-Anzeige
Die Power Indication Color am USB-Ausgang zeigt dir, wie viel Strom gerade erzeugt wird und wie lange der Ladevorgang für ein Smartphone unter diesen Bedingungen dauert. Einfach Smartphone anstecken und die Ladedauer anhand der LED-Lichter ablesen.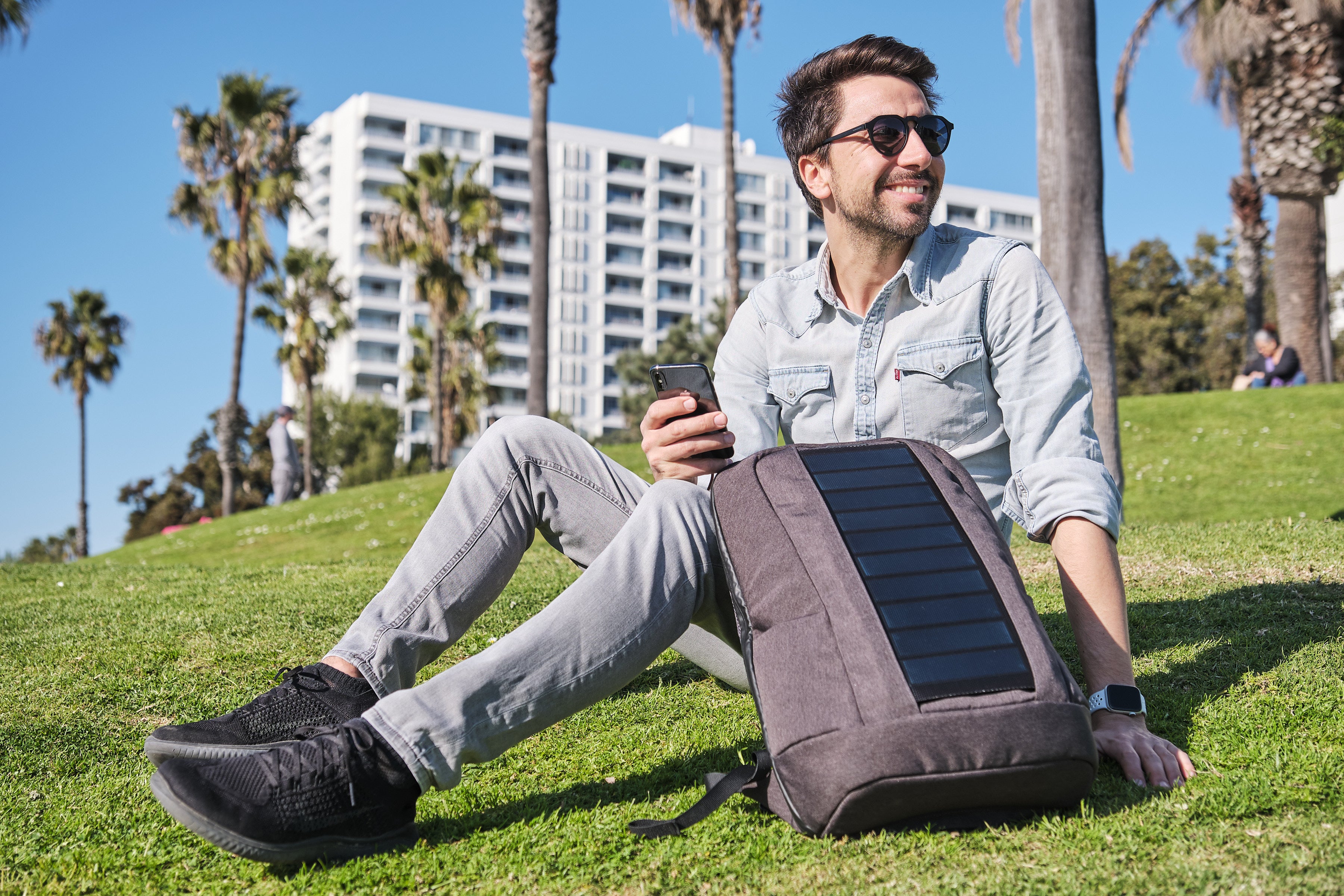 Wer steht hinter SUNNYBAG?
Wir sind ein junges und dynamisches Unternehmen aus Österreich, das tragbare Solarladegeräte entwickelt und vertreibt. Diese laden deine elektronische Geräte unterwegs umweltfreundlich mit Sonnenenergie auf. Somit inspiriert jedes SUNNYBAG zum nachhaltigen Umgang mit erneuerbarer Energie.
Nachhaltig verpackt und geliefert
Wir verpacken unsere Solarpaneele und Powerbanks plastikfrei in recyclingfähigen Kartons. Deine Pakete verschicken wir Co2-neutral mit der Österreichischen Post.
Garantieerweiterung
Je länger ein Solarpaneel verwendet wird umso mehr erneuerbare Energie erzeugt es. Daher bieten wir 5 Jahre volle Garantie, wenn du dein SUNNYBAG registrierst.